How would you respond to the HR issues related to the COVID-19 situation?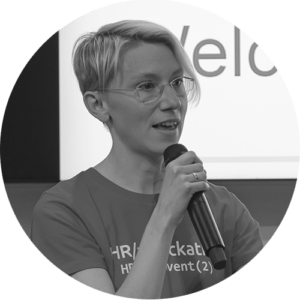 Eva Zils 
Event planner of HR Hackathon special edition COVID-19 (From 17 to 19 April 2020) – Founder of "Online-Recruiting.net"
Describe your career in a few brief paragraphs.
I studied Modern Languages and Literature, and I completed a semester-long Erasmus exchange program in Lyon. At the end of my studies, I decided to stay in the city and I joined an HR communications agency in 2004. In 2007, I launched my HR blog, "Online-Recruiting.net".
At the time, I was among the first German-speaking HR bloggers.
In 2010, I moved to Strasbourg and started working independently. I served as an adviser to foreign companies, aiding them in their endeavors to open their businesses in the German-speaking countries. Seeing the HR Tech start-ups that began to be established in the market in 2014, I had the idea to create, organize, and facilitate my first HR Hackathon in May of 2015 in Berlin.
Presently, I create content about HR Tech, job boards, and mindfulness on my blog and on video. As an ambassador for HR Tech brands, I spread this content on social media platforms to a network of more than 18,000 international contacts.
What elements of your career led you to create these events?
Initially, I was interested in the HR Tech internet start-ups and how they responded to issues. Afterward, for many people in charge of HR, the ideas and solutions proposed by the start-ups were innovative but they could still be improved.
Due to this, I though it would be good to gather HR, start-ups, and developers in the same place so that they could all work together, with the goal of incorporating HR knowledge in the ideas and technologies of young start-ups.
I had heard about hackathons and this gave me the desire to utilize this concept: an HR Hackathon, where there wouldn't only be developers present, but also the people toward whom these technologies were directed: the HR.
Can you discuss 1 or 2 concrete examples of results from the past HR Hackathons? What are you most proud of?
I was able to observe that the majority of the prototypes developed in past editions of the HR Hackathon came to life some years later.
For example, in 2015, the winning team created a smartphone app that functioned like Siri or Alexa. Someone looking for a job could ask this app to find them work in a certain city with a specific salary, and the app would search for them, asking questions to recruiters. As soon as an offer corresponded to the criteria of the user, it was sent to them. And yet, vocal recognition in recruitment technology wasn't developed until 2019!
Another example happened during the 2016 edition. A chatbot based on Slack connected candidates and recruiters after having provided necessary information to the two parties. And yet, chatbots in the field of recruitment are still barely becoming widely available.
How will this year's event be important for the ongoing health crisis? Why is it important for you to help via this event?
The whole world is affected by the current health crisis: employers, employees, freelancers, and people searching for jobs. The whole world is involved. My field is HR Tech. It's due to this that I invite everyone that desires to create solutions, apps, software, or resources to help improve and simplify the work of today and tomorrow, to sign up for this event.
As in the offline editions of the HR Hackathon, the spread of this event is international: I have always invited developers, start-ups, experts, and people in charge of HR from the whole world to participate in this event.
Thanks to the online edition, I can invite even more people from all corners of the globe to help come up with answers to the questions brought up by HR and work (remote work included!) of today and tomorrow.
We can create HR responses to this crisis and this is what motivates me the most: working together, beyond borders, to rise above this challenge.
It's great, isn't it?  
SIGN-UP!
The HR Hackathon takes place online from 17 to 19 April. 
Last day to register: April 16!
Contact
Linkedin : Eva Zils
Blog : www.online-recruiting.net/